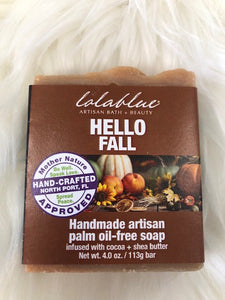 Hello Fall is a blend of fresh pumpkin + apples blended with wild orange, kitchen spices blended with sweet maple and coconut cream.
Top Notes: Roasted pumpkin, wild sweet orange, green apple
Middle Notes: Spiced tea, clove, maple
Base Notes: Vanilla, Tonka, Coconut
Hand-crafted North Port, Florida.
Made with PH adjusted beauty water. Palm oil-free.  They do their part to protect the rainforest by choosing not to use palm oil.
4oz. bar ingredients: 100% saponified oils of (olive, coconut, castor), cocoa butter, shea butter, skin safe phthalate-free fragrance, vegan mica, LOVE.