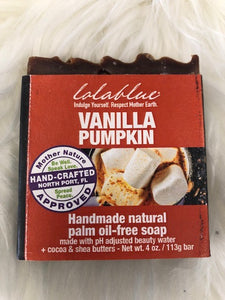 Lolablue Soap
Vanilla Pumpkin Soap
Lolablue's incredible creation of tahitian vanilla cream blended with caramelized marshmellows and sprinkled with pumpkin pie spice. You will LOVE it.
Check out Lolablue's Vanilla Pumkin Candle and Sugar Whip!

Details 
Available in 4 ounce soap bar

100% Saponified oils of olive, coconut and caster
Cocoa butter, Shea butter and essential oils
Phthalate-free fragrance
Handcrafted in North Port, Fl
Sizing 
4 Ounces
Shipping
Packages typically ship within 2-4 business days after you place your order. Receive free shipping on all eligible orders. We'd love to see you in our North Port, Florida location, so please stop on by! 
You can also find our New Arrivals here in the shop, and don't forget to follow us on Facebook, Instagram and TikTok!