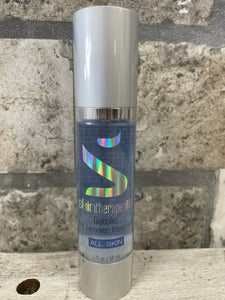 Skin Therapeutic Glycolic Cell Turnover Treatment
Glycolic Cell Turnover Treatment 
Cellular turnover increases new cell growth but sunspots, discoloration and uneven skin tone can overshadow the results. This Alpha Hydroxy Acid leave-on treatment works as a natural exfoliator and can also gradually lighten discolorations of the skin. Glycolic and Amino acid act as water-binding agents to help plump skin and diminish fine lines and wrinkles. With prolonged consistent use, the skin will appear smooth, revived, and luminous. 
Don't be surprised when people tell you that you're glowing.  
Combine with the AHA Rejuvenating Cleanser for a healthy skin care regimen.
Details 
Available in one size: 1.75 ounces

Glycolic acid and Amino Acid
Do not use if you have a Strawberry or Sugar Cane allergy
After cleansing allow your face to dry.  Apply a small amount 1-2 times per week
Your skin texture and tone will become more balanced with an improved appearance.
Sizing 
One Size: 1.75 ounces
Shipping
Packages typically ship within 2-4 business days after you place your order. Receive free shipping on all eligible orders. We'd love to see you in our North Port, Florida location, so please stop on by! 
You can also find our
New Arrivals
here in the shop, and don't forget to follow us on
Facebook
,
Instagram
and
TikTok
!