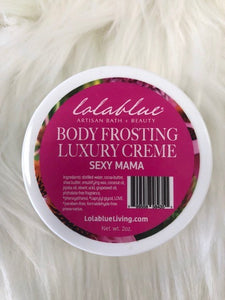 Elegant blend of grapefruit, rose, violet, musk + wild flowers.
Luxuriously Decadent.
Dry skin? You will love this luxurious spa treatment.
Lolablue created a creme that is in between a body butter and lotion but not greasy. Extremely hydrating with divine ingredients for healing. Loaded with cocoa & shea butter then drizzled with jojoba & grapeseed oils.
Always paraben-free + formaldehyde​-free. 
Hand-crafted North Port, Florida.
8oz. Ingredients: distilled water, cocoa butter, shea butter, emulsifying wax, organic coconut oil, jojoba oil, stearic acid, grapeseed oil, phthalate-free fragrance, *phenxyethanol, *caprylyl glycol, LOVE.
*paraben-free, formaldehyde-free preservative