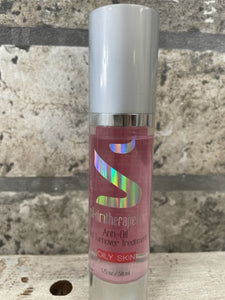 Skin Therapeutic Anti-Oil Cell Turnover Treatment
Anti-Oil Cell Turnover Treatment 
Cellular turnover is critical in removing dead skin cells but excessive surface oils can impede the process. This Beta Hydroxy Acid leave-on treatment uses Lactic and Salicylic Acid to control surface oils and increase cellular turnover through exfoliation. This oil-fighting treatment opens portal gateways in the cellular matrix to allow adjunctive products to penetrate deeply for maximum results.
A youthful glow has not left you; it's just beneath the surface. 
Paragraph 2 linking other relevant products here. 
Details 
Available in one size: 1.75 ounces

Lactic and Salicylic Acid
Do not use if you have an Aspirin or Milk Allergy
After cleansing allow your face to dry.  Apply a small amount 1-2 times per week
This leave on treatment reduces surface oil while providing exfoliation
Sizing 
One size: 1.75 ounces
Shipping
Packages typically ship within 2-4 business days after you place your order. Receive free shipping on all eligible orders. We'd love to see you in our North Port, Florida location, so please stop on by! 
You can also find our
New Arrivals
here in the shop, and don't forget to follow us on
Facebook
,
Instagram
and
TikTok
!