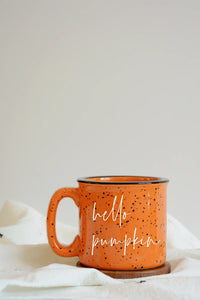 Coffee Mug
 Hello Pumpkin Coffee Mug
Hello Pumpkin!  Start your crisp, cool fall morning with this gorgeous mug.  The weight of the mug feels great in your hand and keeps your favorite fall beverage warm and ready from sip to sip!
Details 
Available in sizes 14 ounces

Color: Orange

Coffee mug with handle

Speckled with colors throughout
White script on both sides
Hand designed in North Port, FL

Ceramic
Sizing 
14 ounces
Shipping
Packages typically ship within 2-4 business days after you place your order. Receive free shipping on all eligible orders. We'd love to see you in our North Port, Florida location, so please stop on by! 
You can also find our New Arrivals here in the shop, and don't forget to follow us on Facebook, Instagram and TikTok!