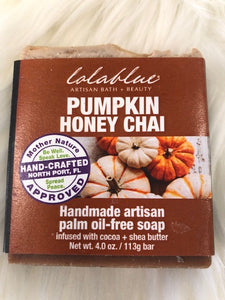 A very strong, warm and yummy, sweet and spicy aroma. Cinnamon sticks, clove buds, nutmeg, black chai are sweetened up with vanilla, milk, honey and topped with chopped nuts. 

Bar contains phthalate free fragrance.
Hand-crafted North Port, Florida.
Made with PH adjusted beauty water. Palm oil-free.  They do their part to protect the rainforest by choosing not to use palm oil.
4oz. bar ingredients: 100% saponified of (olive, coconut, castor), organic cocoa butter, shea butter, skin safe phthalate-free fragrance, vegan mica, titanium dioxide, eco-gold glitter, LOVE.