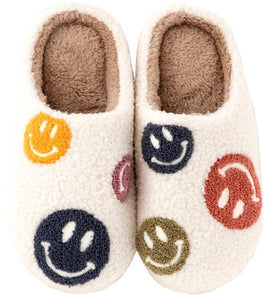 Closed Toe Slippers

Happy Face All Day Slippers
Look down and smile! You won't be able to help yourself when you've wearing these fun smiley slippers! As comfortable as they are cute and a must have! Go ahead…treat yourself! product. 
Shop more slipper styles here. 
Details 
Available in sizes XS, Small, Medium and Large

Color: White
Closed toe slipper

White slipper with multi color smiley faces
 Sizing
XS: 5/6, Small: 6/7, Medium: 7/8, Large: 9/10
Fit
True to size.
Shipping 
Packages typically ship within 2-4 business days after you place your order. Receive free shipping on all eligible orders. We'd love to see you in our North Port, Florida location, so please stop on by! 
You can also find our New Arrivals here in the shop, and don't forget to follow us on Facebook, Instagram and TikTok!